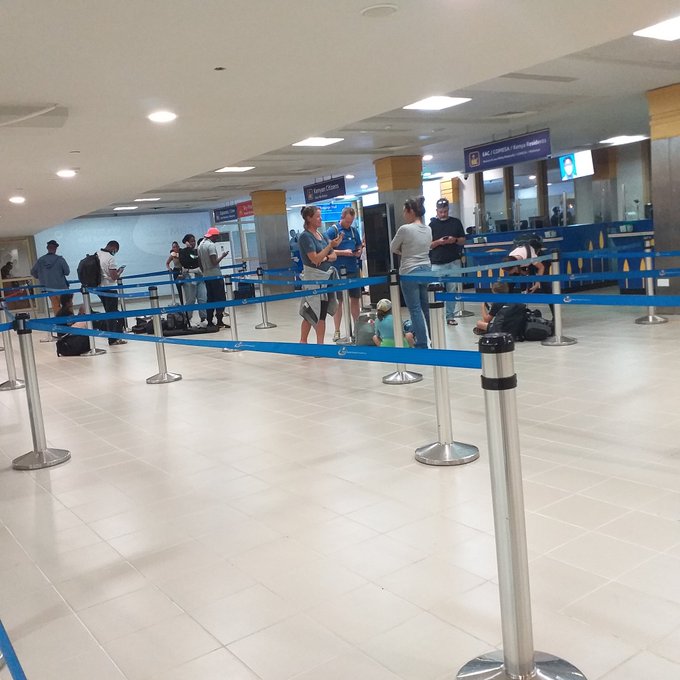 A Kenyan man has exposed yet another shocking coronavirus negligence at Kenya's best-in terms of everything- airport, JKIA.  This comes at a time when Michael Joseph led management had been forced to redeploy the staff that recorded the Chinese plane landing at the airport amid the global scare of the spread of novel Coronavirus.
@SakayoWambua "Been at the airport (JKIA)for over an hour. There is no one to clear us. The stakeholders are holed in a meeting to decide if we should be quarantined at a government facility or self-quarantine from home."
According to him, JKIA management allowed travelers to go home(unchecked) for a self-quarantine. They were, however, asked to present themselves tomorrow at KMTC KNH at 11 am for testing and a possible government quarantine. Those who shall not comply shall be arrested and charged before the court of law.
Sakayo Wambua said that "We were given two options: 1. Government facility quarantine. 2. Hotel quarantine. (Fourways 100usd/day) All at our own expenses. We shall revisit this tomorrow after being tested."
Netizens Reactions
"The Government failed on enforcement and clearly doesn't have the capacity. We've been majorly let down by the people who have been told to stay put but keep moving from one location to another." Dexter posted
Alvin Otema asked," @MOH_Kenya why do you guys give orders that you cannot even execute?"
"Why are ppl still traveling???" The Producer and Host of Wildlife Warriors CEO WildlifeDirect Paula Khaumbua asked.
"Kenyan govt isn't serious Why weren't they tested on arrival nktest Then we will hear of how they are tracing the persons they came into contact with Kosokoso." another user posted.
"Kenya's testing equipment Does not detect the virus at an early stage. Hence 14 days is the common number here"
Kenya has entered the second week since confirming the first Covid-19 case, a period that may determine the fate of the country.
"Evidence from other countries indicate that the number of the infected person increases dramatically in the second week following confirmation of the first case," said Cabinet Secretary Mutahi Kagwe on Friday.
The Government of Kenya through the Ministry of Health on Sunday, March 22, confirmed 8 more cases of Coronavirus in Kenya, bringing the total number of those who have tested positive to 15.
While addressing members of the press outside President Uhuru Kenyatta's Harambee House office, Health CS Mutahi Kagwe announced that out of the 8 new patients, 5 were Kenyans, 2 were French citizens and 1 was a Mexican. The national briefing had been slated to start at 4:00 p.m following the notice issued by the Health CS, however, it was delayed by over an hour and a half, causing anxiety among Kenyans.
Control measures
CS Mutahi was drawing from the experience of countries such as Italy where cases rose from just three in the middle of February to 1,128 by the third week and more than 40,000 in the next four weeks.
"Our fate depends on what we do or fail to do in the next two weeks," said Mutahi while announcing a new raft of control measures.
But data from the World Health Organisation (WHO) suggests the 'wait and see' period in Kenya may be much longer than two weeks. This is because the virus has been spreading much faster in a few hotspots including Europe, Iran, South Korea, China, and the US, but much slower in the rest of the world, including Africa.
JKIA
This is coming at a time that Kenya Airways had announced that they have "temporarily suspended" all international services effective midnight March 25.
This was in line with the government directive to suspend all international flights effective Wednesday night as announced by Health CS Mutahi Kagwe on Sunday.
The announcement came as eight new cases of Covid-19 were confirmed in the country, taking the total number of cases to 15.
"All the eight came through JKIA between March 4 and 17. They have been isolated at various facilities," CS Kagwe said.
In a statement on Sunday, Kenya Airways CEO Allan Kilavuka said the airline's international services remain suspended from Wednesday midnight "until further notice."
"Customers affected by the suspension will be able to change their bookings for later travel or exchange their booking for vouchers for future travel within 12 months," Kilavuka said.
As of 6 pm Sunday, there were 1,284 confirmed cases of Covid-19 in Africa including 40 deaths. More than nine countries in KQ's Africa network, the UAE and India have also instigated travel restrictions, denting the airline's operations and its revenues.
Comments
comments