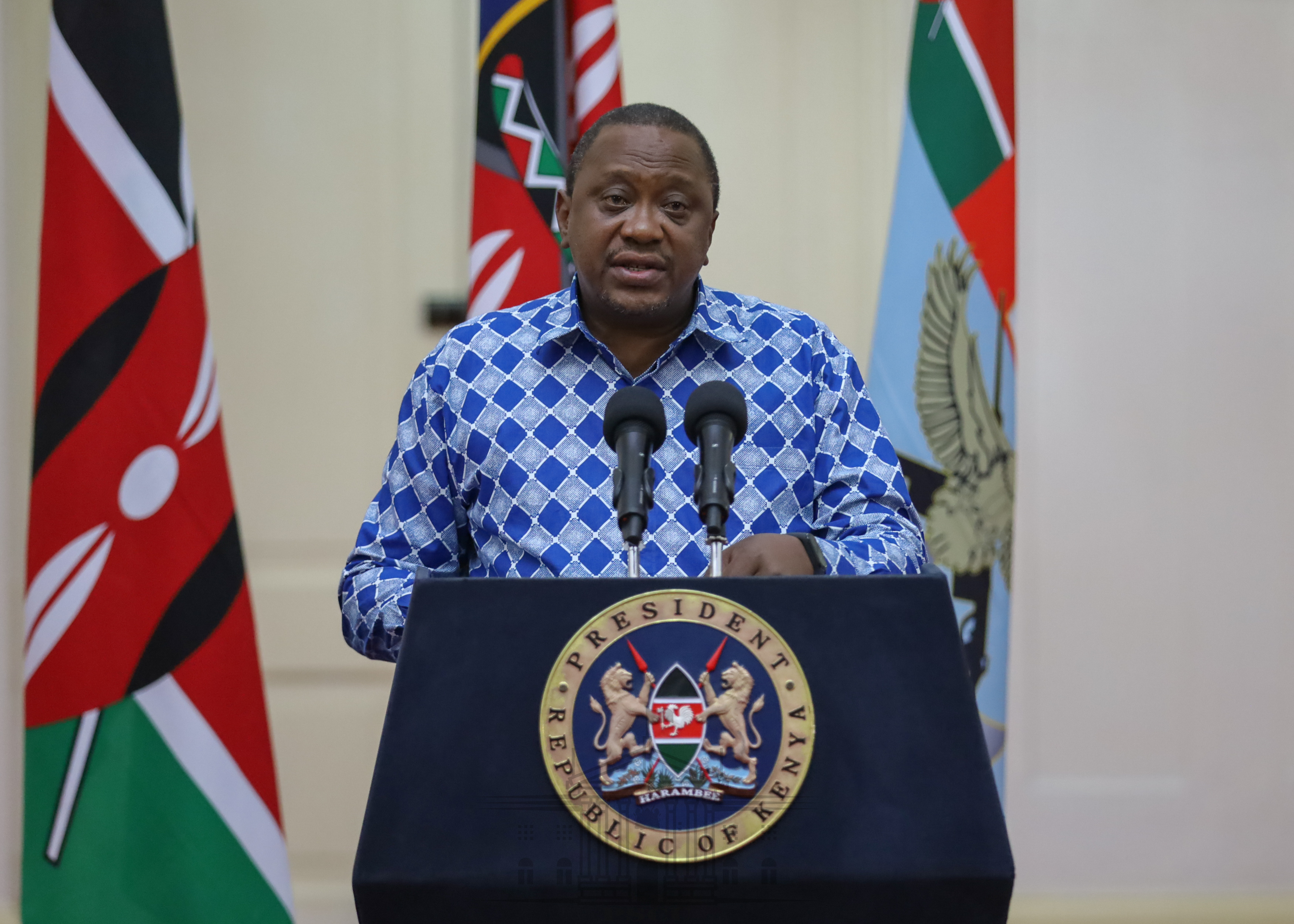 Kenyans caught on the 'wrong side' by the cessation order cried foul. Maybe the President's order should have taken effect tomorrow morning to allow folks to get home.
In a televised address to the nation on Monday, Kenyatta stopped short of announcing a full lockdown within these areas but warned, "We must be ready to go even further if necessary."
President Uhuru Kenyatta imposed a three-week ban on movement IN and OUT of four main coronavirus HOTSPOTS, including the capital, Nairobi. His cessation order comes just a few days before the usually busy Easter weekend.
In addition to Nairobi, they include the port city of Mombasa and the counties of Kilifi and Kwale.
"The cessation of movement within the Nairobi metropolitan area shall be for an initial containment period of 21 days with effect from 7 pm. The movement of food supplies and other cargo will continue as normal during the declared containment period through road, railway and air. The Nairobi Metropolitan Area is designated as Nairobi City County, part of Kiambu County up to Chania River Bridge (Thika), including Rironi, Ndenderu, Kiambu town; part of Machakos County up to Athi River, including Katani; part of Kajiado County including Kitengela, Kiserian, Ongata Rongai and Ngong town; and all other areas as set out in the Order," the president said in his address to the nation," Kenyatta said in the televised address.
Kenya already has a dusk-to-dawn curfew to contain the virus that has infected 158 people in the country, according to the government's latest tally. Four people have died in Kenya from the disease. The Police imposing the curfew directives have also left a terrible mark of more casualties than what COVID-19 has had so far.
"We are at war and we must win," Kenyatta said. "We must make a stand here, before COVID-19 starts to spread out of control," he added. 
President Kenyatta thanked landlords who have reduced rent for their tenants and urged more to follow the example and help Kenyans who are facing hard times due to the effects of the coronavirus pandemic.
"I note with appreciation that some property owners have reduced monthly rent to help provide a roof over the heads of our vulnerable brothers and sisters. In that regard, I urge others to emulate these acts of personal and financial sacrifice. This is a time for compassion and understanding," the President said.
Here is Pres. Uhuru Kenyatta – full Presidential Address of 6th April 2020 on COVID-19
Forty-three of Africa's 54 countries have closed their borders, according to the Africa Centres for Disease Control and Prevention. More than half of Africa's 54 countries have imposed lockdowns, curfews, travel bans or other restrictions to try to contain the spread of COVID-19. Fifty-one of the continent's countries have reported cases of the disease.
Photos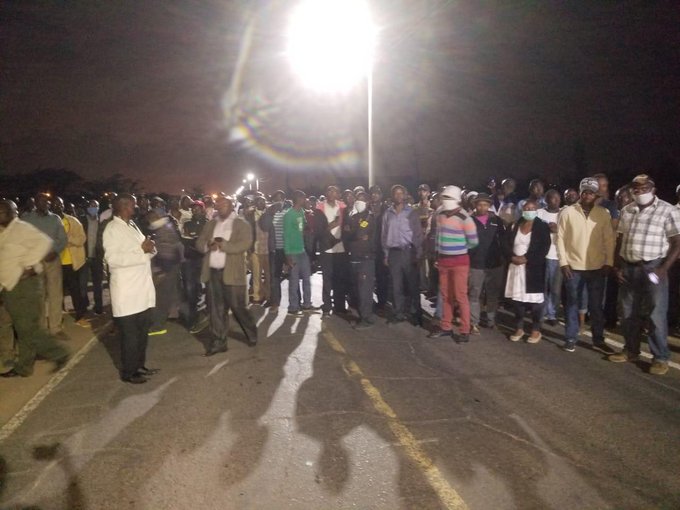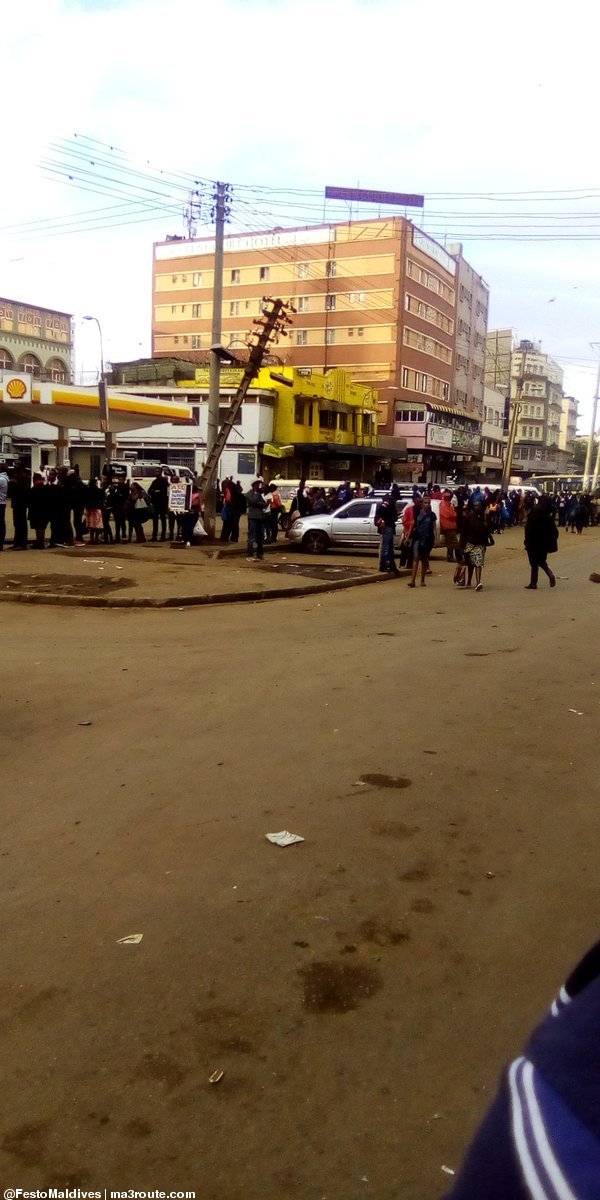 Here is a sample of videos courtesy of Twitter account bearing a similar name with that of the Kenyan Blogger who was banned permanently from Twitter-Cyprian Nyakundi– showing how the cessation order left many crying and hungry to their already sorry and terrified selves. This is unfortunate because most parts of the lockdown areas experienced showers of rainfall.
Kenyans caught on the 'wrong side' by the cessation order cry foul. Maybe the President's order should have taken effect tomorrow morning to allow folks to get home. But Uhuru is Uhuru pic.twitter.com/eyxG5GlPe8

— Cyprian, Is Nyakundi (@CisNyakundi) April 6, 2020
Happening in Kangundo pic.twitter.com/UKDXNuJj1R

— Cyprian, Is Nyakundi (@CisNyakundi) April 6, 2020
And the effects
In line with President Kenyatta's move to impose an immediate cessation of movement in and out the Nairobi for 21 days as a means of combating the spread of Covid-19, we unfortunately wish to inform you that we have temporarily suspended all our travel services as Modern Coast. pic.twitter.com/HJKGxE9Aa8

— MODERN COAST EXPRESS (@Modern_Coast) April 6, 2020
MADARAKA EXPRESS trains operating between Nairobi and Mombasa withdrawn after order on cessation of movement, Kenya Railways MD Mainga says. pic.twitter.com/gk6qL19q4w

— NationBreakingNews (@NationBreaking) April 6, 2020
67% of our vulnerable households in our County are likely to be affected by the 21 days cessation period pronounced by H.E Uhuru Kenyatta. ^JM pic.twitter.com/NSNIY4aJsL

— Kwale County (@OurKwaleCounty) April 6, 2020
President Uhuru's cessation of travel in and out of Nairobi makes sense.A day's notice would have given people out of Nairobi,a chance to come back and those in Nairobi from upcountry to leave.Maybe the number of infected people in Nairobi is high but he doesn't want us to panic? pic.twitter.com/LeTuRF9Pcb

— Boniface Mwangi (@bonifacemwangi) April 6, 2020
Comments
comments