Today, Jubilee Party vice-chair David Murathe confirmed that President Uhuru had called the MPs to an 'urgent' meeting which will be held tomorrow– Monday, May 11.
Tomorrow's Jubilee Parliamentary Group meeting was supposed to happen on Friday, 15th February but was postponed abruptly after members allied to Deputy President William Ruto threatened to boycott.
Senator Irungu Kangata, the Deputy chief whip who said that President Uhuru Kenyatta's supporters had not been consulted.
The party membership is split between two rival groups— Kieleweke which supports Uhuru and the Ruto-allied Tanga Tanga.
"We shall never agree to be pushed around by the other team. They organise meetings without consulting all party leaders in the Senate and the National Assembly. They discriminate against Uhuru supporters. We shall never agree to this," said Kangata.
Uhuru Kenyatta is angry. William Ruto is angry. Kipchumba Murkomen is angry. Mike Sonko is angry. CS Kagwe is angry. Senator Orengo is angry. Governor Joho is angry. Who else is angry?
JUBILEE Merger with KANU?
It has emerged that the Registrar of Political Parties has already CERTIFIED the Coalition Agreement between Jubilee and KANU parties.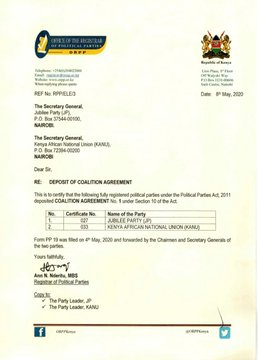 "So on Thursday, President Kenyatta, his brother Muhoho Kenyatta & Nancy Gitau met Senator @MoiGideon and signed a coalition agreement. On Friday Moi was boasting about it in a meeting with @skmusyoka. Unfortunately, that only added 3 senators to the plan against @kipmurkomen," former State House operative Dennis Itumbi posted on twitter.
Also, earlier today Jubilee Party Secretary-General Raphael Tuju had announced that the Party's Senators had been invited to a Jubilee Parliamentary Group Meeting at State House, Nairobi. The Parliamentary Group meeting is also scheduled for Monday, May 11.
All of these comes at a time that Party wrangles between members affiliated to Uhuru and those associated with Deputy President William Ruto have become apparent. Dancing to different tunes while on the same political dancefloor.
According to Tuju, this has nothing to do with shambles in the ruling party, the main issue he expects to be discussed is the transfer of functions from the Nairobi county government to the national government and the resulting stalemate.
"You know, the invite came from the President so I cannot purport to be dictating the agenda. But one thing I know will be up for discussion is the situation in Nairobi County which as you know has had a lot of problems. This is why you have only Senators being invited as opposed to members of the National Assembly," he stated.
On the other hand, Deputy President allies within the leadership of Parliament, such as Senate Majority Leader Kipchumba Murkomen or his National Assembly counterpart, Aden Duale, say that they are targeted for removal.
According to Itumbi, Tomorrow Senate PG will, on orders from the Head of State and government endorse the Late Mzee Moi's son Gideon Moi as Majority Leader.
"The Fake coalition agreement has been signed which has not passed through the Party NEC," Itumbi posted on twitter. 
The Decision MUST be communicated by the Party Whip in this case @susankihika – Hahaaa, hurdle Number 1. #HustlerNation – The rest of the strategy….watch and see!

— Dennis Itumbi, HSC (@OleItumbi) May 10, 2020
Have we reached a stage where Prof Makau Mutua calls the Door of No Return? Because for Deputy President William Ruto, there will be no in-betweens come 2022.
In his OP-ED on Daily Nation, Prof Makau Mutua states that "The man from Sugoi is either staring at an abyss or ascending a mountain – maybe THE mountain. Two men – and only they – will determine Mr Ruto's destiny. That's Jubilee's Uhuru Kenyatta and ODM's Raila Odinga."
Warren Edward Buffett, an American investor, business tycoon, and philanthropist, who is also the chairman and CEO of Berkshire Hathaway says the secret to be rich on wall street is being greedy when everyone is in fear and be in fear when everyone is greedy.
Ruto is a hardcore politician and he will not back-off. The idea of alleging that the DP quit and form a monster opposition is still not on the table. Does he have the moves to floor the Dynasties?. He's not foolish to think that he can replicate the late Daniel Moi's script.
Heres the math:
Buy Raila get Luos free.
Assume #handcheque = Sh1.5b
Price of a Luo = Sh1.5b 3 m luos = Sh500
Compare with Sugoi price of other Kenyans:
Sugoi visit = Sh5000 cash back
Church harambee 2.5m/ 500 members = Sh5000
Luo = Sh 500
Other Kenyan = Sh5000
Moi was right https://t.co/5jMFGTVMiz

— Educated chokoraa, spricht deutsch (@DavidNdii) April 11, 2020
Or, perhaps as Prof Makau Mutua would put it, Mzee Jomo Kenyatta may have despised Mr Moi, but he didn't loathe him.
On October 16, 2019, Economist David Ndii lamented over the rampant corruption that had characterized the Jubilee Party's twin terms in power. He claimed that Ruto was a better candidate the than "selfish families which despise us, and expect to be treated like royalty."
In November last year too, the notable Economist David Ndii, while responding to a Twitter user who questioned why he appeared sympathetic to the DP, explained that DP Ruto would be his preferred presidential candidate if put up against ODM leader Raila Odinga in the 2022 General Election.
Let me be clear. The imperative for progressive forces is to send both Ruto and the dynasties home. But if God forbid we must suffer one evil let us suffer Ruto—him we have a fighting chance. If we don't uproot the dynasties in 2022, they will enslave up to our grand children. https://t.co/NSK5eF9Lbh

— Educated chokoraa, spricht deutsch (@DavidNdii) November 28, 2019
In June, a grouping calling itself Kikuyu Council of Elders asked Ruto to retire alongside President Uhuru in 2022.
Since the handshake, Raila has hosted many high-profile politicians, businessmen and professionals from the Mt Kenya region at his Capitol Hill office in Nairobi.
Most of the politicians visiting to consult lost in the last elections and have a grievance real or imagined against Ruto saying that he was the cause of their loss "because he does not want strong leaders in Central".
In defence, Ruto said that he would be daft as a politician to want weak leaders because a smart politician prefers the strong leaders who can easily win him influence where they come from.
The losers include Kabogo, former MPs Jamleck Kamau of Kigumo, Kabando Wa Kabando, Mukurueini and Ndung'u Gethenji, Tetu. Kabogo and former Gatanga MP Peter Kenneth are among leaders from the Kikuyu community who have publicly claimed Ruto orchestrated their downfall.
However, DP Ruto's role during 2018 Jubilee nominations appears to have worked against him as far as the losers are concerned, with some claiming he plotted their downfall.
Muranga Resident are giving DP Ruto sleepless nights after giving him altimetums to get their votes. Muranga leaders want DP Ruto to name his DP from the region.
In Central Kenya, in particular, Mr Ruto donated at least Sh7 million a month in three months. (May-July 2018). His biggest contribution was Sh15 million donated to Murang'a High School on April 6 for the construction of a multi-purpose Hall.
In April, a series of tweets from an account that says in unaffiliated-but seem knowledgeable to the ways of blogger Cyprian Nyakundi schooled DP Ruto on Donts and how he can floor the Dynasties.
"The narrative against William Ruto was well planned and has picked up. The plan was to project the entire economic woes of the entire county on him and this has picked!
Another narrative against DP Ruto is that he is the author and creator of corruption in Kenya. This one has picked. Even a class one kid knows that he is the author and creator of corruption and impunity.
When all these things are combined they project DP Ruto as a desperate man who will do anything to ascend into the presidency. Amass wealth, eliminate, and even buy churches, etc. Narrative picked!
So will DP win against the well-oiled dynasties that united after they sensed danger?
DP May never win against the dynasties but he can be a pain in their ASS. Why don't the dynasties want him? Check the next posts…
There is a REAL fear that there will be diminished opportunities for the CLIQUE in key positions if Ruto becomes president.DP
The dynasties don't know Ruto "well"…There is a real fear that he can amend Katiba to prolong his term… Isn't that what Uhuru wants?
The dynasties know that it would be easier to control a spent-cartridge like Raila and not "indefatigable" Ruto. 

Absolute panic from UK and clique that DP Ruto would cede hold of the reigns of power.
https://twitter.com/CisNyakundi/status/1254010872789336069?s=20
https://twitter.com/CisNyakundi/status/1254011186930212865?s=20
https://twitter.com/CisNyakundi/status/1254011446268231680?s=20
https://twitter.com/CisNyakundi/status/1254012237519429633?s=20
Kenyan youth have gradually lost faith in mainstream media. Mediamax (
UK
), SG (Moi), and Citizen (ODM) – most youths lost trust in the political stories run by them. So he must stop being distracted by hit pieces media does. The only outcome from what Ruto and his team are doing is making sure that he has nailed shut his political coffin.
Comments
comments