Kenya Electricity Generating Company PLC (KenGen) has resumed operations of its Olkaria geothermal Spa which had been closed due to the coronavirus pandemic.
A statement by KenGen says that the Spa was opened after a thorough assessment by the Ministry of Health and Nakuru County Government Health Officials who gave the facility a clean bill of health to resume operations under strict compliance with the COVID-19 preventive measures.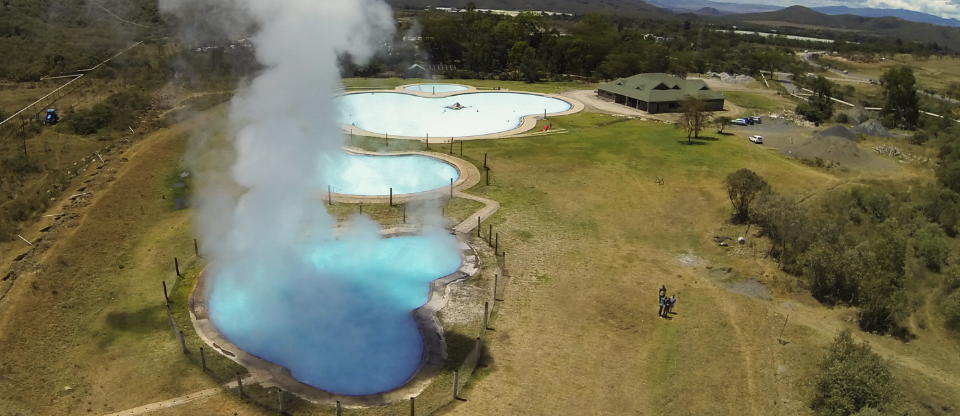 "I encourage members of the public visiting our Geothermal Spa to observe all COVID-19 protocols as you enjoy this natural resource that is unique not only in Kenya but in the entire African continent," KenGen Managing Director and Chief Executive Officer Rebecca Miano said.
During the closure, KenGen said it used the opportunity to conduct routine maintenance and improve the facility to enhance user experience.
The opening of Olkaria Geothermal Spa offers Kenyans an alternative to Mombasa and other distant tourist destinations as they get to explore the health benefits of geothermal steam which is also used for electricity generation.
"The KenGen Geothermal Spa provides a comforting and invigorating atmosphere where visitors can relax their body and mind," the statement added.
The Olkaria Geothermal Spa
Geothermal Spa has three cascaded lagoons. The first lagoon is a receiving pond for the hot brine with a temperature of more than 90oC that is gathered from various wells in the Olkaria Geothermal field.
The Second lagoon is an overflow from the first lagoon and offers temperatures of up to 50oC. Designed in an aesthetic manner, this lagoon has both shallow and deep ends.
The third and largest lagoon whose temperature is 35oC can take up to 400 people. You can experience the warm/ hot water bathing in the third lagoon.
An extension of the third lagoon has children pool hardly one foot deep where small children as young as two can enjoy the warm bath, under the care of lifesavers as their parents relax their bodies in the third or second lagoons.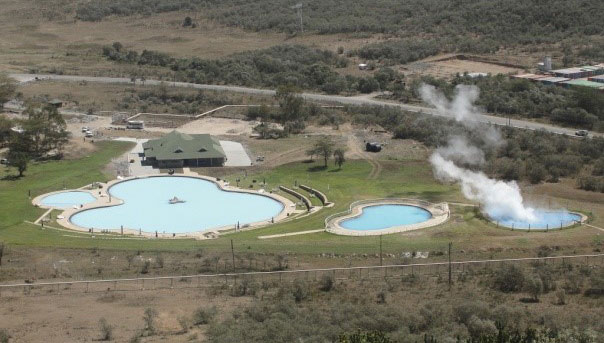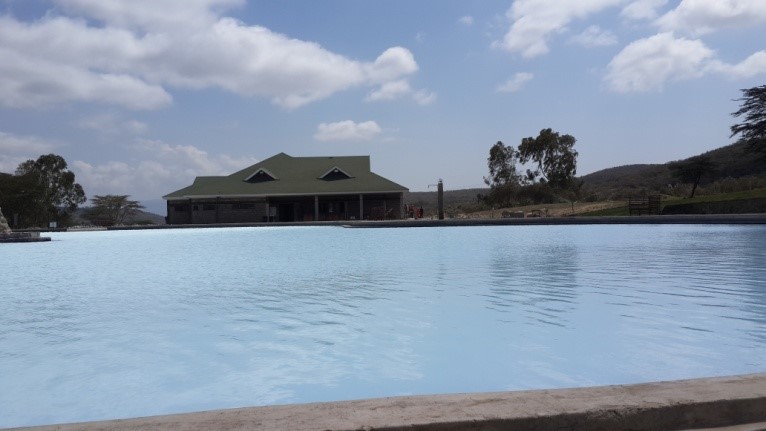 The center  has an excellent conference facility for any style of meetings and workshops that can handle up to one hundred persons. As a dedicated conference and meeting venue, our service is all about delivering you with ultimate flexibility to create any size, type and style of event. It could be a one-hour catch-up in a meeting zone, a weekly training course or a full day conference with lunch and refreshments. This facility is fully equipped with state-of-the-art audio-visual technology and includes free Wi-Fi access throughout.
With a dedicated on-site event catering services team, Geothermal Spa has one of the leading eatery venue in Nakuru County. Whether it's a three-course hot buffet, light refreshments for meetings or a celebration dinner for guests, our events catering team can offer high-quality menus to match your event theme and budget.
All dishes are prepared using fresh, high quality and locally sourced ingredients where possible.
We have a wide range of menu selections to choose from and if required are happy to work with you to design a custom menu specifically for your event. Whatever your requirements, our experienced event catering services staff will take care of every detail to make your event runs as smoothly as possible.
How to reach the Olkaria center
To reach the Center, drive to Naivasha town through the Nairobi- Nakuru Highway. Naivasha town is located 89 km from Nairobi and 70 km from Nakuru. Once you reach Naivasha town, take the Moi South Lake Road and drive 35 km to the Hell's Gate National Park where the Centre is located. Alternatively, if you are from the direction of Nairobi, you can use the Mai Mahiu – Naivasha road as you sample the scenic Rift valley and driving close to Mt Longonot. Driving along the Mai Mahiu road, you take a left-hand turn into the Moi South road, two kilometers before Naivasha town.