New information is surfacing about how Uhuru Kenyatta's once-romantic relationship with his deputy, William Ruto, deteriorated.
Despite popular belief, the disagreements between the two are not political, but rather economic, since they clashed on which bank should be chosen to carry out Safaricom's extremely profitable Fuliza money scheme months after the repeat presidential election on October 26, 2017.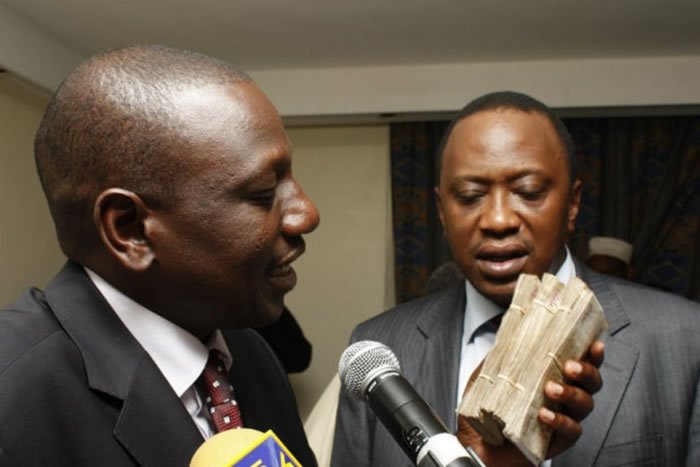 Sources acquainted with the proceedings disclosed that the two fronted different banks to carry out the Fuliza service, which allows M-Pesa consumers to conduct M-Pesa transactions even if they do not have enough cash in their M-Pesa account.
Ruto was fronting for KCB to roll out the project, where he would have raked in billions of shillings in commissions, but the president teamed up with Baringo Senator Gideon Moi to front for his family's National Commercial Bank of Africa(NCBA), which eventually bagged the deal alone despite an agreement between the two that KCB would be part of the programme. The Moi family is a significant shareholder in Safaricom.
According to the power brokers, during the 2017 election campaign, Ruto was led to believe he was a part of a deal in which Safaricom, in collaboration with Kenya Commercial Bank and NCBA Bank, would have introduced a payments interface on M-Pesa that would have allowed customers to pre-authorize transactions for later payment.
Ruto, who was hard pushing for Uhuru's reelection, was eyeing billions of shillings from the agreement to spend in his 2022 presidential ambitions, not realising that he was only helpful during the campaign. Indeed, during the 2017 elections, then-Safaricom CEO late Bob Collymore revealed that CBA and KCB were testing the overdraft facility.
Ruto took Collymore's remarks to heart. However, once Uhuru firmly secured the presidency for a second and last term, he revealed his real colours and teamed up with Gideon to have the facility put out by CBA, leaving Ruto perplexed because KCB was not involved.
Ruto was furious, but a few months later, on March 9, 2018, the second-in-command stood powerless as Uhuru clasped hands with ODM leader Raila Odinga. Ruto was elbowed off of the high table with the handshake, and his efforts to have KCB roll out the project or be a part of the rollout were rebuffed.
The president and Gideon chose CBA, in which their families hold large shares, in order to deprive Ruto of campaign funds, since he was eyeing billions of shillings from the project.
According to the Weekly Citizen, Ruto has close ties to KCB CEO Joshua Oigara, who was apparently serving as his personal banker. Oigara is reported to be a marked man at KCB following the departure of pro-Ruto sympathisers from the board and management.
According to insiders, Oigara's survival is because to strong members of the Boys Club, which Uhuru also belongs to. Behind-the-scenes manoeuvring is underway to push Oigara out of the coveted position as his successor at the financial organisation. Powerful operators at the centre of power are pushing them. Ruto had used his influence in the bank a few months previously to secure a Sh1.3 billion loan using the title document to the contentious Weston Hotel.
Ruto borrowed Sh1.25 billion from KCB in 2014 and 2015, both times using the identical Weston Hotel title document. He utilized some of the money he received from KCB to pay off a loan he had with Equity Bank. Despite the fact that a valuation assessment commissioned by Equity Bank and completed by Zenith Management Valuers Ltd in 2010 assessed Weston Hotel at Sh300 million, he borrowed the massive sum.
Ruto had charged the property for Sh100 million at Equity Bank which was discharged on October 8 2014 when KCB bought out the loan. He then charged the property to KCB and received Sh350 million and Sh150 million facilities on June 30 2014.
Weston imposed an additional charge of Sh700 million on the title on July 8, 2015. The entire loan charge at KCB now stands at Sh1.25 billion. Hamilton, Harris, and Mathews, a law company, drafted all of the accusations. The Weston Hotel is currently being challenged, with the Kenya Civil Aviation Authority claiming that the 1.77-acre lot was obtained illegally. However, Ruto has come out to deny that the hotel is operating unlawfully. According to sources, Ruto was disappointed in January 2019 when he learned that Kenya's largest privately owned bank, CBA, was partnering with Safaricom to create the Fuliza service to supplement the existing 30-day term loan offered as M-Shwari.
Ruto, insiders added, tried to reach out to Uhuru to demand reasons why KCB had been left out but Uhuru did not pick his calls. Uhuru had blocked Ruto's phone calls and that is when the deputy president reportedly sent a text message to Uhuru which was not replied to, too. He then sent another message to the president which was also not replied to.
FULIZA
While launching the project, Safaricom and CBA said it was designed to help the customer complete M-Pesa transactions that would have otherwise failed or been postponed due to insufficient funds. They stated the new credit solution further promoted the cashless economy that was more efficient with clear advantages and incentives to the consumer for making payments digitally.
Indeed, at a speech to small-scale merchants last week, Ruto slammed Fuliza, citing it as one of the financial loan providers, such as Tala, who are exploiting Kenya's poor by charging 500% interest. When he comes to power, he plans to establish a government fund for Saccos and other organisations that would levy a 3 percent interest rate.
Whether it was sour grapes or not, Ruto was at it previously when he cynically wondered why Fred Matiang'i did not also notify Kenyans that he is a significant stakeholder in Safaricom, which is likewise guarded by GSU. Ruto was jokingly mocking Uhuru and Gideon, who are also Safaricom stockholders.
Comments
comments