In a now-viral video shared on Twitter, two cops have been recorded trading punches over the share of a bribe they had collected.
A video that has gone viral on social media shows two Nigeria Police officers fighting on the streets of Lagos. According to accounts, they were arguing about how to split the bribe they received at Apapa Tincan.
Policemen fighting over bribe they collected in Apapa Tincan. 😂 pic.twitter.com/MblFOUgSa3

— Ayemojubar (@ayemojubar) October 25, 2021
In the footage, one police can be seen punching another officer in the face while others look on in awe. The brawl went on for a while before another police officer interfered and the man on top stood up.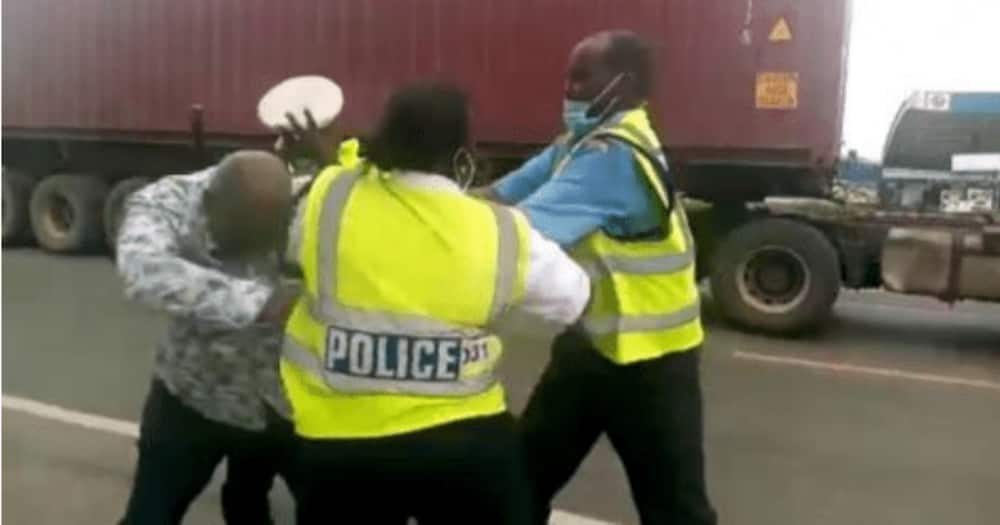 Members of the public were on December 24 treated a spectacular Christmas drama when a police officer and a motorist engaged in a fist fight.
It all started after the traffic cops who was manning a Nakuru-Nairobi highway hit a car belonging to the motorist using his swagger stick during the heavy traffic snarl-up. Irked by the officer's action, the unidentified civilian driver who was dressed in a floral shirt quickly jumped out of the car demanding to know why the officer had hit his car.
He claimed the officer damaged his car. The two could be seen bitterly arguing while pushing and shouting at his each other. The civilian dared the cop to beat him up.
"Why are you hitting my car? Stop pushing me. Beat me up you will see what I will do to you. Take a photo of how he has hit and damaged my car," he claimed while asking a journalist to capture the incident. "What will you do?" the policeman responded.
The officer attempted to chock him but the driver blocked his hand prompting two other traffic officers who were on standby to rush to the defence of their colleague.