DP Ruto's self-declared Head of Hustler Nation Intelligence Bureau Dennis Itumbi was found badly injured after reports of his alleged abduction.
There were reports that Dennis Itumbi was kidnapped while having a haircut along Kiambu Road by police over his recent baby mama dramas in court only to be found allegedly dumbed after "a beating"
Senator Morkomen said earlier that :Dennis Itumbi @OleItumbi is in the hands of Uhuru Kenyatta through his boys @FredMatiangi, @IG_NPS &Director of Military Intelligence under General Robert Kibochi. We expect you to release him now unconditionally. If anything happens to Dennis you will personally be held responsible
David Itumbi, the Brother to Dennis Itumbi reported that they have found HNIB leader allegedly Tortured and Beaten and confused
My brother has been badly beaten. We thank God that he is alive. On his own account he was arrested by police and beaten and tortured. This is the state we found him in. (See pictures) Please pray for his recovery. Asanteni for your many prayers and support pic.twitter.com/tXBmfHZPfM

— David Itumbi (@ItumbiDavid) December 23, 2021
The National Police Services has responded on the alleged kidnapping and torture of Itumbi and call for those with more info to help the authorities.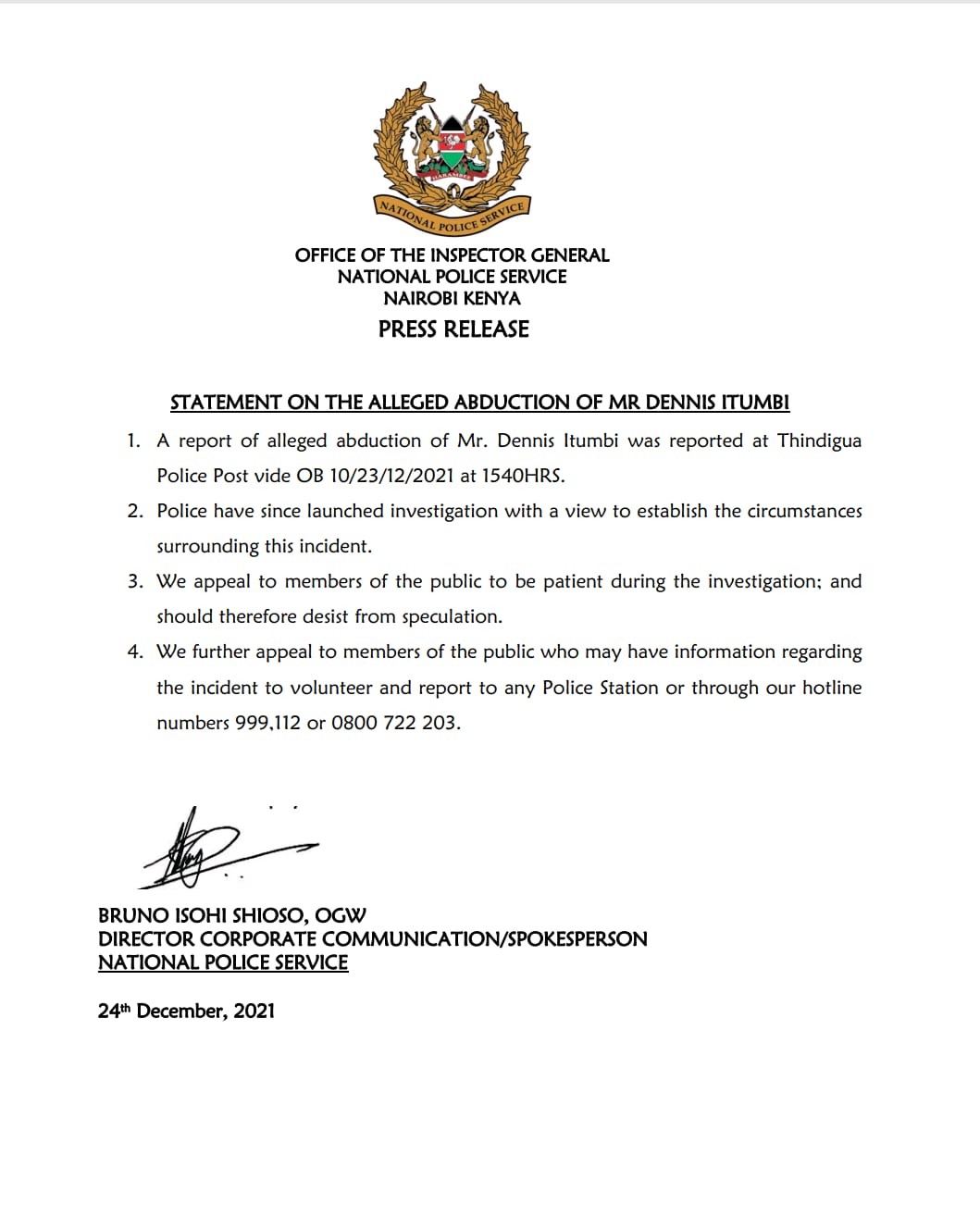 Here is How Kenyans on Twitter are responding to the now trending topic
My FREN Dennis Itumbi🥚UDA is a FELLOWSHIP of THUGS. And you are a PINK THUG. Soft and unteSTED. Do not JOKE with getting KIDNAPPED. Hustlers are KNOWN to eat CHILDREN.

— Mutahi Ngunyi (@MutahiNgunyi) December 23, 2021
What happened to @OleItumbi is wrong and criminal. I condemn the attack and l hope the perpetrators will be arrested. If anyone feels aggrieved by Dennis Itumbi's social media posts, they should go to court and not send goons. Wishing him a quick recovery and may he get justice. pic.twitter.com/MwEOorvcUX

— The People's Watchman (@bonifacemwangi) December 24, 2021
In developed countries like Canada and France, politics is not a big deal. In Kenya politics is a matter of life and death. Tom Mboya,JM Kariuki,Robert Ouko, Nkaissery,Saitoti, Musando,Jacob Juma and now Dennis Itumbi is battling for his life. CS Matiangi we're watching you pic.twitter.com/s47EkRle9o

— Kelwon🇰🇪 (@Kelkenya) December 24, 2021
I stand with Bogonko's family. Dennis Itumbi should tell us what he knows! pic.twitter.com/AT5Pocgmmr

— Ronoh Cornelius (Kipchumba) (@kipro_hon) December 23, 2021
Dennis Itumbi Challenge Accepted. Sympathy Addict. pic.twitter.com/MCvDaUVbYJ

— Ronoh Cornelius (Kipchumba) (@kipro_hon) December 24, 2021
Ndindi Nyoro asked the President to suspend the Constitution and rule with an iron fist.

Murkomen couldn't close his mouth because he was celebrating Miguna's deportation.

Dennis Itumbi was the first person to defend the Security Laws amendments in 2014.

UGUA POLE!! pic.twitter.com/F5YRVvnnwL

— Hon.David Murathe (@Murathe_David_) December 23, 2021
Dennis Itumbi sheds tomatoes instead of tears. Usicheze na Alibaba school of PR 🤣🤣🤣🤣 pic.twitter.com/FTpVMd371U

— Karen Wanjiku HSC (@WanjikuHSC) December 24, 2021
There's a difference between a beaten and massaged face. Dennis Itumbi wacha kutubeba ufala. pic.twitter.com/GA0W0sIrfT

— 𝐅𝐫𝐞𝐝 𝐑𝐢𝐜𝐤 🇰🇪 (@ItsMisiani) December 24, 2021
More Reactions here
Author Profile