Kenya Electricity Generating Company PLC (KenGen) is the leading electric power generating company in East Africa.
KenGen was incorporated in 1954 under the Kenyan Companies Act as Kenya Power Company (KPC) with the mandate to generate electricity through the development, management and operation of power plants.
The shareholders of the Company later contracted East Africa Power & Lighting Company (EAP&L) to manage KPC. In 1983, EAP&L changed to Kenya Power & Lighting Company.
In Kenya, KenGen has its tentacles spread across six operation areas- Olkaria & Eburru, Western, Kipevu, Seven Forks, Upper Tana and Ngong. At the Geothermal area along the Rift Valley, the company has power plants and wellheads running as baseload energy sources in Olkaria and Eburru.
The Western region which has an installed capacity of 249.4MW encompasses four hydro stations and a thermal power plant as follows; Turkwel, Sondu Miriu, Sangoro, Gogo and Muhoroni. The company's Gas Turbine has been relocated to Muhoroni where it provides grid stability support to the Western region.
Kipevu area which has two thermal plants located in Mombasa County has an installed capacity of 193.5MW.
The Eastern Region has five power plants along the Tana River comprising of Masinga, Kamburu, Gitaru, Kindaruma and Kiambere power stations, with a total installed capacity of 600.4MW. The Upper Tana area comprises of four power plants: Mesco, Wanjii, Sagana and Tana. The area has been developed with an installed capacity of 35.03MW.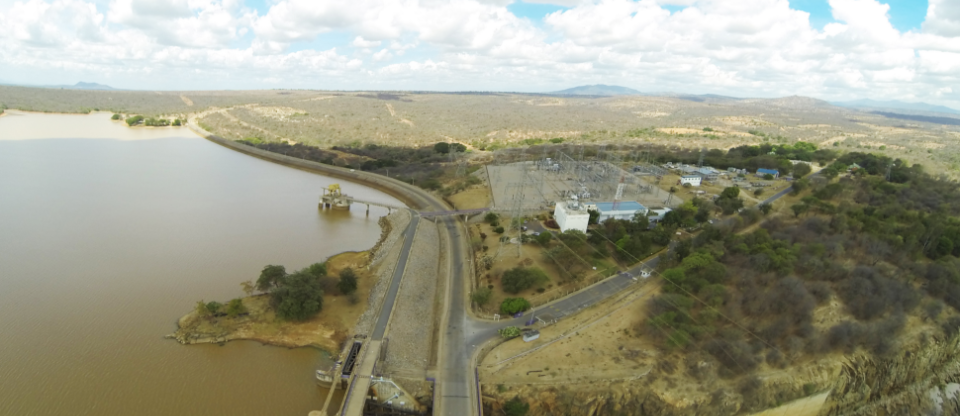 Ngong wind plants, with an installed capacity of 25.5MW are situated in the Central Office region.
Hydro, which is KenGen's leading source of energy (at 45 %) has an installed capacity of 825.69MW. Geothermal comes second with 713.13MW of which 83.6MW is drawn from innovative wellheads technology. Geothermal energy occupies 39 % of our installed capacity.
Hydroelectricity, or hydroelectric power, is electricity produced from hydropower. In 2020 hydropower generated one sixth of the world's electricity, almost 4500 TWh, which was more than all other renewables combined and also more than nuclear power.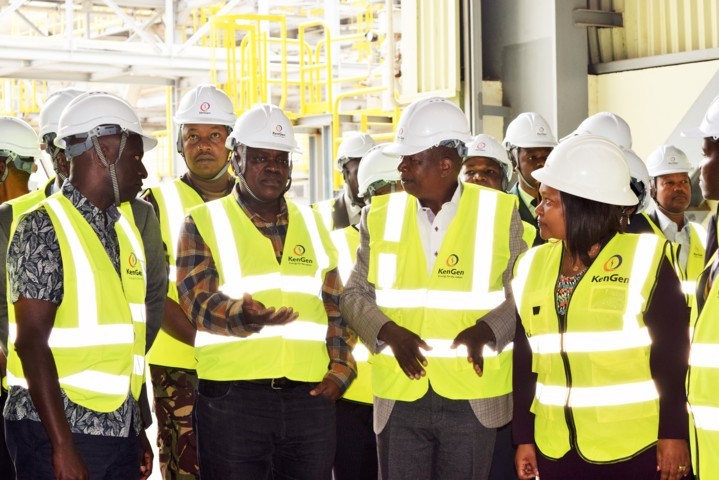 Hydropower can supply large amounts of low-carbon electricity on-demand, making it key to many secure and clean electricity grids. With a dam and reservoir, it is also a flexible source of electricity, since the amount produced by the station can be varied up or down in seconds or minutes to adapt to changing energy demands. Once a hydroelectric complex is constructed, the project produces no direct waste, and it almost always has a considerably lower output level of greenhouse gases than fossil fuel-powered energy plants
The company owns 30 hydropower plants with a combined capacity of 825.69 MW, four thermal power plants generating 256 MW, seven geothermal power plants with a generating capacity of 713.13 MW and one Wind power plant at Ngong producing 26 MW, for a combined generating capacity of 1,817.82 MW.[5]
Presently KenGen operates five major geothermal power plants with 12 installed units, namely: Olkaria I, Olkaria II, Olkaria I unit 4 and 5, Olkaria IV, Olkaria V. 16 wellhead plants with 21 installed units. The Olkaria geothermal power stations are located in Nakuru County within the Hell's Gate National Park bordering Lake Naivasha within the Great Rift Valley.
Author Profile