Kenyan based jobtech firm Ajiry has been listed amongst other global most notable and impactful firms that are connecting employers to qualified employees.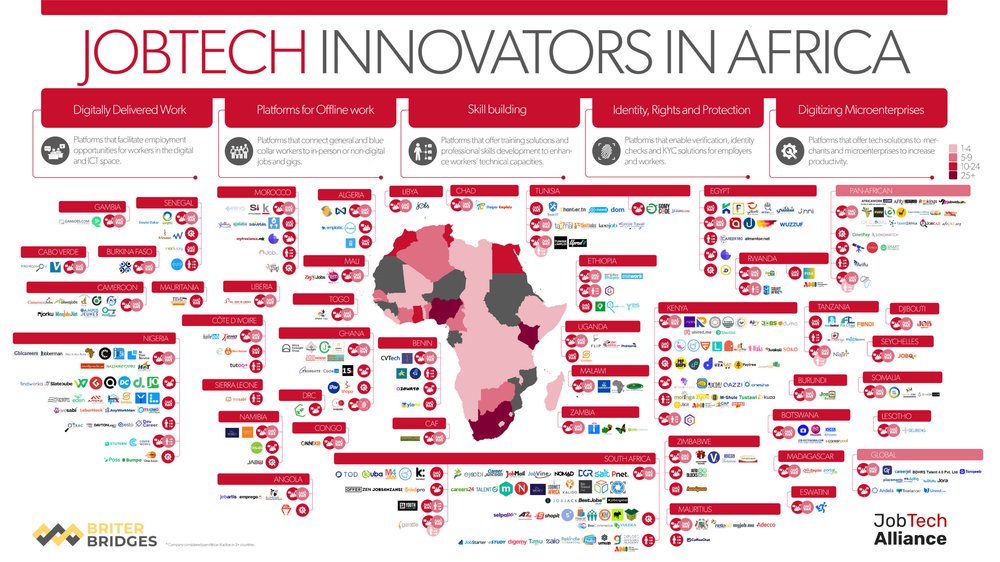 The above categorisation and mapping of jobtech seeks to encompass a broad spectrum of job enabling and facilitating solutions, while also allowing for a clear distinction between the types of services offered.
In practice, we find that the vast majority of the startups and SMEs offer a combination of solutions, especially digitally delivered work and platforms for offline work, e.g., e.g. Kwiks in Morocco, Wuzzuf in Egypt and Ajiry Shortlist in Kenya.
Ajiry is part of measures taken by Centum Investment Limited to bridging the unemployment gap. The Progressive Web App, is designed to provide a platform for workers and employers to connect and network effortlessly in an environment free from third-party interference.
Launched in May last year, Ajiry aims at making it easier for the youth to directly link up to the employer, or any individual looking for a service from an expert.
The project plans to impact more than 24,000 young people in 10 counties, in the next 12 months, before rolling out to other counties.
"We want those youth to be part of our team, we want the energy that the youth have because they are poised to take over the country," said the late Dr Chris Kirubi.
The pilot counties include Nairobi, Kisumu, Mombasa, Kilifi, Laikipia, Meru, Nyeri, Machakos and Nakuru.
"Once an individual has downloaded this application, workers will cast a wide net in their search for job opportunities and in turn formalize the informal sector," said then Centum Group CEO Chris Kirubi during the launch last year.
"Ajiry is not just a project, it is a mission to transform this country by connecting young people with job opportunities through the Ajiry App and the Training centers," said Centum CEO James Mworia.
Platforms for offline work by themselves have also become prevalent in many African countries, connecting blue-collar and informal workers to employment, such as SweepSouth in South Africa, or Shaghalni in Egypt
Africa's socio-economic growth is characterised by a double-edged sword in that the fastest-growing population in the world meets one of the highest levels of unemployment.
Because of this, the creation of long-lasting and sustainable work opportunities is becoming all the more pressing, especially as the ongoing COVID-19 pandemic has had devastating effects on the already high unemployment on the continent. Sustainable Development Goal (SDG) 8: 'Employment, decent work for all and social protection is at the forefront of the discussion to ensure that all workers, especially rural workers, youth and informal workers, are given equal opportunities, included in economic progress, and protected through labour laws.
This mapping is aimed at raising awareness on and providing a framework to analyse the several innovations that are contributing to increasing access to employment through a variety of models ranging from information providers to marketplaces for talents. These models are gathered under the umbrella term 'jobtech'.
According to the Jobtech Alliance, jobtech can be defined as the "use of technology to enable, facilitate, or improve the productivity of people to access and deliver quality work".
This digital evolution of the job search process has been facilitated by record levels of internet penetration and smartphone adoption across the continent, allowing individuals, and youth, in particular, to more easily find short and long-term contracts.
Although digital job boards are helping connect job-seekers to employment opportunities and recruiters to qualified candidates, the notion of jobtech can also be extended beyond the mere job matching functions into the realm of education and upskilling, and the enabling of a more employable and adept workforce.
Numerous e-learning platforms and training centres are adapting their services to the growing number of job seekers looking to participate in an increasingly competitive job market, offering courses to enhance professional capabilities and technical skills. In fact, more and more sectors can now be associated with the very concept of jobtech, generating new opportunities for work and professional growth, and closing the skill and productivity gap.
E-commerce, fintech and logistics can also be seen to intersect with the concept of jobtech, as they are directly and indirectly facilitating jobs for microenterprises, merchants and informal workers. This synthesis of sectors could stem from a need to build out stronger value chains, ensuring for instance that individuals have the necessary tools and resources needed to be able to meet the requirements of their work and employment.
Author Profile
Latest entries