Minet Kenya in partnership with Del Monte Kenya has announced that they will host cancer screenings in Murang'a as part of Breast Cancer Awareness Month.
The medical camp will offer free screenings to more than 1,000 Ithanga residents in Murang'a County. They will benefit from a free one-day medical screening camp hosted by Del Monte Kenya Limited (DMKL) in partnership with the County's Ministry of Health (MOH) and Minet Kenya Limited. The camp will be hosted at Matunda Primary School on October 8 2022.
The camp will feature free breast and prostate Cancer screening, in commemoration of World Health Organization's (WHO) Breast Cancer Awareness Month.
Additionally, residents will receive free dental and eye checkups, family planning, pediatric treatment, voluntary counseling, HIV/AIDS Testing (VCT) services, deworming, and general checkups.
"Health is one of our Corporate Social Responsibility pillars, and our objective in hosting this medical camp is to provide much-needed health services to our neighbors and create awareness about health and hygiene among the people of Murang'a County," said Stergios Gkaliamoutsas, Managing Director, Del Monte Kenya.
Minet Kenya had in partnership with DMLK organized several medical initiatives including Ndula Medical Camp, Kandara Medical Camp, Swani Primary School medical outreach, and Ng'araria Primary School Medical Camp.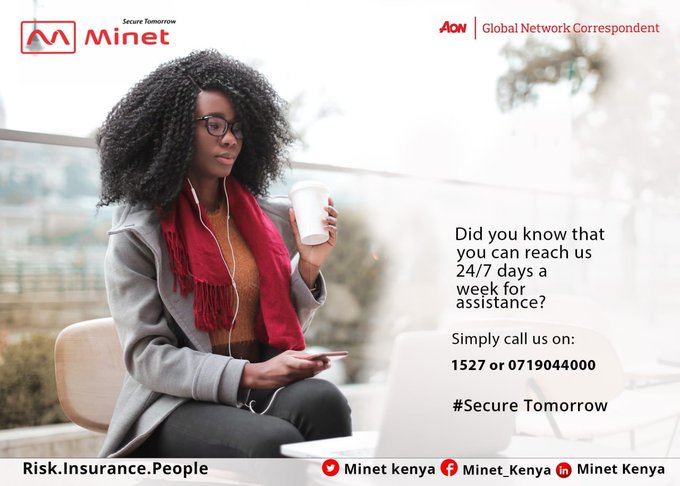 About Minet:
Minet is a trusted pan-African advisor that meets the uncertainties of tomorrow by delivering risk and human capital solutions today.
As the largest Aon Global Network Correspondent, Minet has access to a network of over 50,000 colleagues in 120 countries as well as proprietary data, research, and analytics which enable us to manage and secure the risks of tomorrow and provide clients with an unrivaled advantage.
Minet's journey started almost 70 years ago as JH Minet Company. In 1997 Aon, the leading global provider of risk management, human resource consulting and outsourcing, acquired the U.K. shareholder, London Minet, as part of their African expansion strategy. As a result, the company became Aon Minet, and subsequently Aon.
In 2017 private equity firm Capitalworks acquired Aon's shareholding in several African operations, alongside local shareholders including governments in many markets, which has created what is now Aon's largest Global Network Correspondent.