GCR affirms Centum's A+(KE) and A1(KE) credit rating, cites strong liquidity
"The strategy is to completely de-gear the balance sheet by FY24, & has committed to applying part of the proceeds (Kes 2.3bn) from the sale of its investment in Sidian Bank to debt repayment in FY23"
Centum Investment's long and short-term Issuer ratings of A+ with a stable outlook have been confirmed by Johannesburg-based GCR Ratings, which cited a balance in the firm's focused investment portfolio against its solid financial profile.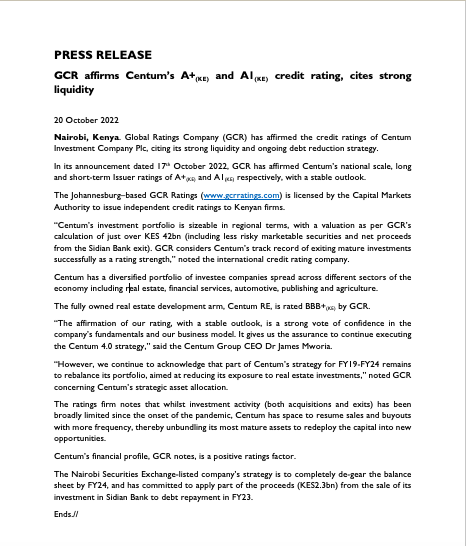 The government also pointed out that Centum's investment portfolio, with a valuation of more than Ksh 45 billion and a highly concentrated marketable securities portfolio, is sizable in terms of the area.
"The majority of investments are located and operate within Kenya, while there are very large single name (and therefore industry) concentrations within the portfolio. As of September 2021, Centum RE (rated BBB+(KE) by GCR) accounted for around half of the total investment portfolio, with the exposure to real estate comprising around 65%." GCR noted in the report.