The government behaves as though SGR is the only infrastructure that has ever been invested in. Since the controversial SGR tender was handed to Chinese firms, the State has been spending absurdly and financing the flamboyant lifestyle of the Chinese involved in the construction and maintenance of the white-elephant project. Kenyans have had to organize weekly demos to force the government not to kill local businesses and sponsor Chinese owned ones. 
According to a local daily, the government has coughed out more than Ksh1 Billion on Standard Gauge Railway (SGR) especially on such simple things as landscaping where the government is reported to have used Sh1 billion on buying grass alone. Kenyans on Twitter have gone berserk and the government is once again on the receiving front.
Kenyans were fed the narrative that the Chinese contractors were living in temporary containers, the reality was that they were earning top dollar and living large behind the walls of the SGR.
Take, for instance, the airtime allowance for the lead engineer was Sh5 million, for the three years the project was under construction. Even if the China Road and Bridge Corporation (CRBC) engineer was on phone 24 hours every day for the 36 months, the airtime would never have been exhausted.
His house was furnished at a cost of Sh3 million and office computers bought at Sh280,000 each, while his laserjet printers cost a staggering Sh513,700 each. In total, the taxpayer forked out Sh57 million to provide office furniture.
What followed was an overpricing of several components of the contracts. The overpricing was even discussed in a June 25, 2012 meeting, but this only earned Kenya a price reduction of Sh3 billion on the total contract.
Some of the exaggerated prices for items include station loudspeakers for Sh28,800, video cabinets (Sh1.14 million), workshop benches (Sh180,000), ticketing system (Sh8.4 million each), air conditioners (Sh1.9 million), portable radios (Sh119,100) and digital voice recorders (Sh341,500).
The SGR project development was supposed to cost USD 2.5billion (Sh250 billion), as tender given during the grand coalition government. The cost was inflated by Jubilee Government to USD3.75 billion then later USD4.5 billion (Sh455billion).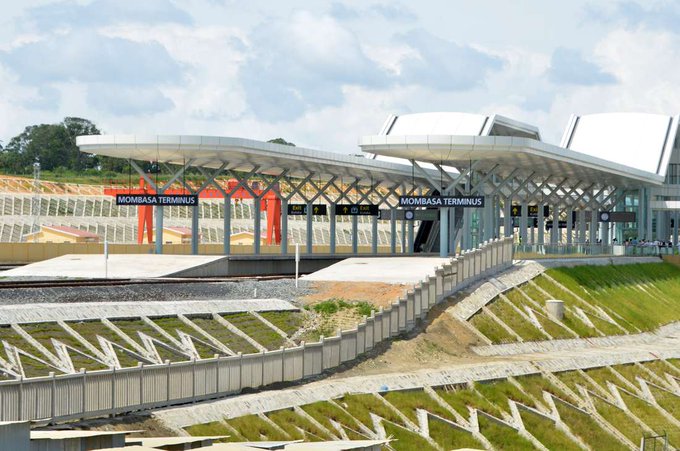 At $1.92 billion, which translates to about Sh192 billion at current exchange rates, for the 422 kilometers, Tanzania's line is not just cheaper; being electric, it's designed to support a maximum speed of 160km/hour for passenger trains and 120km/hour for freight. This pales in comparison to Kenya's line, whose passenger trains have a maximum speed of 120km/hour with freight haulers doing 80km/hour at best.
Currently, the revenues generated from the passenger and cargo services on the track cannot meet the operation costs, estimated at Sh1.5 billion a month against average sales of only Sh841 million.
Here are some of the randomly sampled tweet reactions on the absurd spending to keep afloat the Chinese white elephant.
SGR is another NYS heist. A Chinese contractor was given Kshs 5M for airtime. A printer going for Kshs 40,000 in the market was bought for Kshs 570,000. No wonder President Kenyatta was emotional when asked for details on SGR by @MarkMasai . @KanzeDena @StateHouseKenya

— Rein (@Asamoh_) February 25, 2020
The Jubilee govt spent Ksh 1 Billion of your taxes to buy grass for the SGR project. Kenyans are dying in hospitals for lack of basic painkillers, but your govt would rather spend 1B buying grass for a railway line that leads to nowhere. And you say you still have a country. pic.twitter.com/1DnhTZHEqQ

— Gabriel Oguda (@gabrieloguda) February 25, 2020
We warned about this BS no one listened. You said #SGR is heaven and we were being "unpatriotic". #UshenziKE! pic.twitter.com/Z2xIMZZxB9

— Wanjikũ Revolution™ (@WanjikuRevolt) February 24, 2020
– You fired a journalist who wrote a piece that said SGR was a scam

– You fired cartoonist @iGaddo for drawing a cartoon alluding to SGR as theft of taxpayer money

– You disagreed with @DavidNdii for calling out this project

You should apologize to them and all Kenyans https://t.co/FXFu5BQ3EL

— Mr. B (@Benogola) February 25, 2020
Matters SGR.
Ksh 5 million was spent on the Chinese lead engineer's airtime for 3 yrs while grass along the line was planted at a cost of Ksh 1 billion.

You need to speak German to understand this level of impunity! pic.twitter.com/4UhwzEgTif

— Clive Wanguthi (@WanguthiClive) February 25, 2020
Kenya's Corruption Shame

SGR is robbery with violence – psychological violence against Kenya's children who sit on stones, -stone age in 2020- while the Government of Kenya and China's CRBC execute one of the most nasty, sickening, disgusting, abominable corruption in the world. pic.twitter.com/wUM3BPCaSf

— Dr. John Njenga Karugia, PhD (@johnnjenga) February 25, 2020
SGR Chinese Engineers had airtime allowance of Sh5m & laser jet printers cost Sh513,700 EACH (about 10* the cost).

Digital voice recorders were charged for Sh341,500 but cost as little as Sh2,000.

Welding machines Sh442,872 (actual cost Sh25,000). https://t.co/kVcRbAMamF

— Mihr Thakar (@MihrThakar) February 25, 2020
A Chinese Engineer at SGR, Enjoyed a small token of Ksh 5M Airtime in 3 yrs. That not enough, the SGR grass parted with a crazy amount of Ksh 1+ B. This can construct about 40KM of quality tarmack, but Jubilee walicheza Kama wao.

Doktari #PillarsOfGreed#RepentKenya Chokoraa pic.twitter.com/CSWxlkIeuu

— Moran – 254 (@itsMoranKE) February 25, 2020
So what is the most lethal, most dreaded DCI and anti-crime watchdogs EACC as they call themselves doing about this? Or they are waiting for petty offenders and fake number plates printers to be nabbed so that they jump in and mugshot them!
The looters of SGR are known but @DCI_Kenya and @EACCKenya not willing to go after them.

— Original RAO (@RobertAlai) February 25, 2020
"And those values are values of justice, respect for human beings, a development which is people-centered, development.So I'm not regretting that I tried to build a country based on those principles." Mwalimu Nyerere 1996
Comments
comments