A section of Kenyan netizens has expressed fury and anger after a video of a long queue of tractors carrying sugarcane waiting for clearance at the Rai owned West Kenya weighbridge around the Kimwani area in Kakamega county went viral.
WEST KENYA SUGAR COMPANY LTD is located in Kakamega, Kenya, and is part of the Sugar and Confectionery Product Manufacturing Industry and is owned by Jaswant Rai.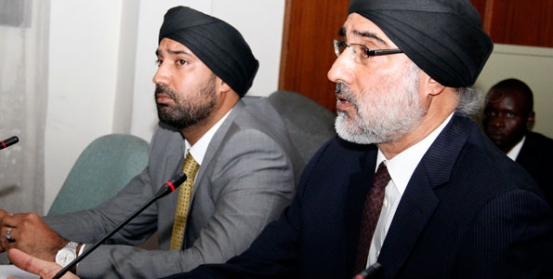 Rai Group is also Kenya's second-largest sugar miller through its West Kenya Sugar and Sukari Industries subsidiaries in Homa Bay. It is also Uganda's second-largest miller through Kinyara Sugar Works, besides having interests in edible oils, fats and soaps (Menengai Oil Refineries), saw milling (Timsales), wheat farming, horticulture and real estate (Tulip Properties).
Jaswant Rai: The chair of Rai Group, ran Rai Products, which sold stuff for RaiPly on credit. Alongside his father, Jaswant was the largest shareholder of Rai Products and Rai Investments. Her mother, Sarjit sued both for allegedly salting away fortunes from Rai Products and investing them without consulting other members despite a 1977/78 verbal agreement that all Rail fortunes were co-owned by all family members.
According to the video shared on Twitter, the sugarcane has been lying on the tractors for the past week. Sugarcane returned to West Kenya from Kibos. The sugarcane was reportedly first taken to Kibos Sugar Company in the neighbouring Kisumu county but later returned to West Kenya.
This is so sad to watch. What a wastage of valuable resources. pic.twitter.com/2Fqx29Jy4r

— Ahmed Mohamed ((ASMALi)) (@Asmali77) September 1, 2021
Conflict of interest where the people we elect are accomplices. Check the proxies on importation. Then, the worst on monopoly suffocating agricultural sectors.

Farmers Board on Sugar, Milk, are facilitators with policies that hurts more.

— R K DAVID#🌍 (@RKDAVID1) September 2, 2021
This Video was taken at one of the West Kenya Mill weigh bridges. Muhoroni is the only operational factory in Nyando #Sugar Belt. Cane is being diverted to West Kenya and Ndhiwa as a result of Kibos and Chemillil mills being shut down due to mechanical problems.

— CS Hon. Peter Munya (@PeterMunya) September 2, 2021
This is the mess the handshake brothers seek to address. The reset was necessary to change our mindsets so that we can run public companies without stealing from them. It will be tough today but all these will be revived successfully once we adapt to the realities of thenewworld

— Gitonga Mbijiwe (@GitongaMbijiwe) September 2, 2021
Farmers elsewhere have moved on from exploitative and loss making crops. I don't get why those in Western Kenya haven't evolved from sugarcane. Doing the same thing over and over and expecting different results is insanity.

— Atomick (@Atomixic) September 2, 2021
We have no Sugar board, we have no National Assembly , the minister for agriculture doesn't care , does not even know where Kibos is.

We Kenyans are on our own. Sugar imports are at an all time high whilst farmers are suffering. Mumias etc died the same way, IT HURTS

— David Ludogoli (@DLUDOGOLI) September 2, 2021
This is one reason why I opted not to engage in canb e farming. As long as the current government policies both spoken and unspoken remain in place, it's more than a waste of time & resources. It's an example of institutionalized economic sabotage for subjugation

— Dan Odero (@DanOder0) September 1, 2021
The politicians have killed Mumias, Nzoia, Chemelil and now Sony is dying. At Sony I hear they bulldoze management into giving them huge sums for "protection". Meanwhile Sony hasn't paid its staff for over a year. The privatized ones in the meantime sell imported sugar.

— Adipo Sidang' (@AdipoSidang) September 2, 2021